Once completed, ActivateMR boards have the option to host conversations on the board and individual tiles. This helps place data and collaboration at the centre of decision-making processes.
ActivateMR can be accessed via: Back Room > Analysis Tools > ActivateMR
You can create an open sharing link for your board so that you can send it to other areas of the business/clients. To do this, in the top right-hand side of your board, click the 'Share' button and select the toggle to get the link from the pop-up.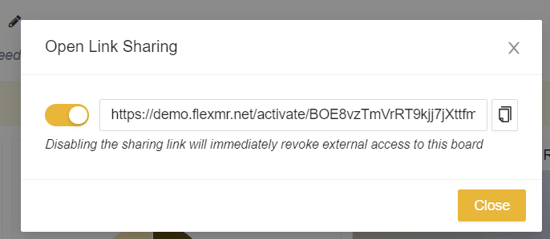 If you choose to switch on the commenting function on your ActivateMR board, client accounts who have access to your board and who are logged into the InsightHub can join in the discussion in real-time.
To create client observer accounts so that your clients/stakeholders can comment on your board, please see the 'How to add users through a single user upload' page:
How to add users through a single user upload
To comment on individual tiles, click the speech bubble icon in the top right if it is available
To comment on the board overall, click the 'comment' button in the top right of the board. This will open a pop-out screen on the right of the page
To like a comment, click the thumbs up icon beneath an existing comment
To reply to a comment, click the arrow icon beneath an existing comment and enter your text