If you are looking for participants to provide more in-depth feedback as part of your survey, a Video Booth question can be the perfect tool to source a more personal account of an experience or opinion.
To add a Video Booth question, you can follow these steps:
Access the Back Room > Research Tools > SurveyMR 2.0
Select your survey or click 'Add Survey 2.0' in the top right corner
In the surveys' build tab, add a new question by first clicking and dragging the 'form' box from the left of the page onto the canvas.
Open the drop down menu, and choose 'Video Booth'
Add your question text within the question box provided.
Beneath the question box, you can alter the amount of time you would like to give respondents for their video.
Good to know: This is automatically set at 3 minutes which is the maximum time. You can decrease this in 30 second increments to a more appropriate length for you and the question you are asking your participants.
Good to know: A respondent can rerecord their message, but this will knock off the total time available for an answer. For example: If it is set to be a maximum 2 minute recording and a participant makes a mistake and starts again after 30 seconds, when they restart the recording, the maximum they can record will be 1.5 minutes.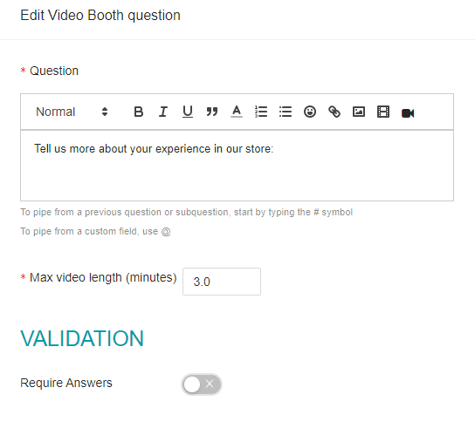 As with other questions in SurveyMR 2.0, you can also select the button for 'Require Answers' if you would like this question to be compulsory before proceeding further in the survey.
Top tip: We would recommend that Video Booth questions are optional, just in case a participant has a technical issue or is not comfortable recording a video. This way they can proceed through to the rest of the survey.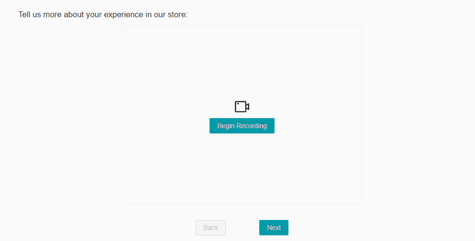 The question will appear with a 'Begin Recording' button on the live survey. The participant need only click the button and record their message directly from their PC, laptop or smart phone, using their camera and microphone.
To ensure the best user experience for respondents, particularly those answering on mobile, only one Video Booth question can be added per question form. To add an additional Video Booth question, please create a new form.