While live, it's possible to view responses, prompt participants and export data from question boards.
For a quick overview on how to moderate and manage ongoing question boards, please see the below video. Alternatively, a written description with screenshots is provided underneath.
The main Question Board page gives you an overview of your Question Board and from the 'Question' tab on the Question Board Back Room page you can view all the questions within your board. Questions which are coloured yellow are either upcoming or have closed, white coloured questions are live:

From this page you can also:
Edit the question ()
View the question in situ ()
View the responses ()
Link to the participant page ()
See how many users have/haven't answered each question
Move the questions up/down the list
From within the actions drop-down you can also, send invite/reminders about the question, download the images for the question, close the question or delete the question: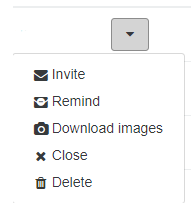 Responses
Once your Question Board is live and you have participants responding you can read all comments through the front end of the Question Board (via the My Tasks tab in the navigation bar) or through the Back Room via the responses icon (

):

This shows (for that individual question) all the different responses to it, plus any comments on the initial response and also:
View the response () - takes you to the question in situ
Comment on the response () - will show in a pop-up box replicating the same style as in the Question Board front end view
Contact user ()
Delete response ()
Prompting on responses

) or the back room (using the comment icon

). The process of adding your prompt is the same once you have clicked on the icon.
Responses can be prompted on via either the front end view (using the comment icon
You will get a text box to add your comment. If you want the comment to only be visible to the user who posted the comment (and not the other users in the Question Board) you need to tick 'Private comment'; if you tick 'Email this user to alert to reply' the user will receive an email notification to tell them that you have commented on their response, you will also receive an email notification when they reply to your comment: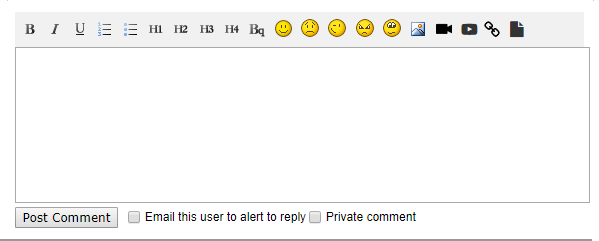 Exporting your Question Board transcript
Once your Question Board has closed you can export the transcript into excel via the actions drop-down.
The transcript export will contain a single excel sheet with a tab for each of your questions. Each tab will be labelled with the question board question name (please see an example in the screenshot below):

Also, photos and videos have separate tabs within the Question Board settings where you can view and download these. Photos can be downloaded as a group or individually, videos must be downloaded individually.