You can create dynamic groups to provide you with an 'active' list of participants, which can be updated with new participants, based on the group's criteria.
A dynamic group is created as a group that is empty of participants, to which filters and their values are saved. When the group is 'run,' it is populated with participants meeting the criteria of the filters set.
Where consumer groups are a static group of participants, dynamic groups are active, meaning their members can continually be updated based on current database members and the criteria set for the group.
How to create dynamic groups
Through Back room > Database > Consumer Groups you are able to view all the existing consumer groups set up on your platform.

To begin, click on 'Add Dynamic Group'. Then, select your chosen filters for that group. The filters/conditions match that of the 'Account Search' page. You can preview how many users will be returned by the dynamic group by clicking on 'Calculate Current User Numbers'. Following this, click 'save and run'. Your group is then created (it may take a few minutes to add all the users into the group; this happens in the background so you don't need to stay on the same page).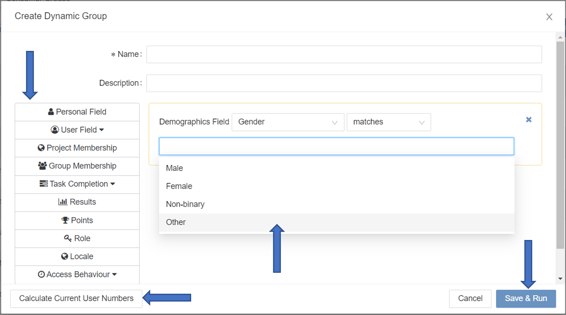 Each time you need to update the dynamic group, all you need to do is go to the Consumer Groups page > find your dynamic group > click on the filter icon (see below), then click 'Save and run'. The dynamic group will then be updated with any new members. The group does not update itself independently of a manual 'Save and run' step (think of it as refreshing a webpage for most up-to-date content).

You can also duplicate a dynamic group to create a new group with different criteria, and save the filters for that new dynamic group, so that you can re-run it as needed.
Important note: you cannot make an existing consumer group into a 'dynamic group'. You will need to create the dynamic group from scratch in order to save the filters alongside it.