How to run report cards
Report CardMR offers admins the ability to monitor completion rates and send user prompts.
Once your report card is running you will want to monitor the number of users completing the tasks as well as reading and prompting on entries.
Click into your report card from the main report card page, to see the completed tasks click the 'Responses' tab, or click to view responses (

) from the main report card page:

From this page you can:
Download a CSV of all completed entries ()
Download any images uploaded to the task ()
From within the actions drop-down you can also, view the individual response, remind the user to complete additional tasks, contact the user, or delete the completed task: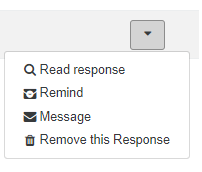 When you read the completed responses, you can then go on to
comment/prompt
on the completed task.
Photos and videos
If you want to see all the photos or videos uploaded by users as part of their task click on their relevant tabs:

You will see all the photos/videos uploaded and have the option to download them from this page.