A quick and easy way to view details of each individual that too part in a survey.
Using the 'Responses' tab you can view each respondent to the survey: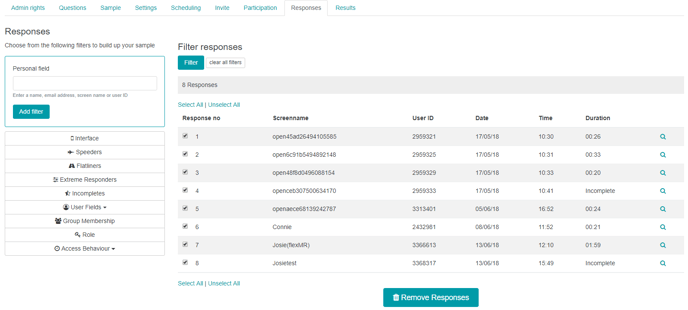 The main page shows key information about the respondent and the duration column indicates whether the person has completed the survey or not (those with a time for duration have completed the survey, those with incomplete dropped out before completing). You can also click to see each respondents responses to each individual question (

).
Filtering and cleaning responses
This page can also be used to filter and clean responses from the dataset.
Filtering responses
Using the filters on the left hand side of the page you can search for respondents by:
Interface - whether they have completed on mobile or desktop
Speeders - respondents completing the survey in +/- 25% of the average time
Flatliners - respondents who gave the same answer to 50% or more of all grid questions
Extreme responders - respondents who gave an answer at the top/bottom of the scale for 80% or more of the questions
Incomplete - respondents who haven't answered any questions at all, or after a specific question
User field - respondents who match/do not match an existing platform user field
Group membership - respondents who are/aren't members of an existing consumer group
Role - the type of account on the platform that the respondent has
Access behaviour - relating to their platform member account (e.g. active/inactive, subscribed/unsubscribed, last log in date and tenure)
Cleaning responses
If there are responses you want to clean out of the survey (e.g. poor quality or incomplete) you can do this by selecting those on the current page view and then selecting 'Remove responses'. This will remove them from the response page, any result tables (in either the survey or table builder), and all exports from the platform.
You can restore responses (will display on the left hand side of the page) but this will restore all previously removed responses.