SurveyMR supports piping of responses and media such as pictures, video and audio.
You can add some different options to your questions including the ability to pipe responses from previous questions/existing platform user fields into your survey questions. You can also add media to within the questions so that respondents can react to these during the survey.
Piping responses
You do not need to add a question feature to use this, it is done through the edit question window (there is a help guide to the right of the window). To add the piping, just type ?Q[question number]? e.g. ?Q6? where you want the answer to appear in the question text (with the number being the question number of the answer you want to appear).
An example:

If the respondent selects November they then see this question:

Adding media
The following types of media can be added to questions in your survey questions:
Pictures (jpg, gif or png - they will be resized automatically)
YouTube videos
Audio (mp3)
Video (wmv, avi, mp4, webm)
PDF documents
Media can be added to any question type by clicking the camera icon in the question list page (

)
Images, audio, video (other than YouTube videos) and PDFs need to be saved on your computer or network; to add them browse to the file you want to use, select where you want to display the item (before/after the question or after the answers) and then upload it to the question: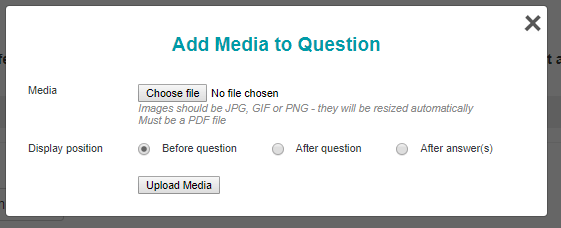 Please note that video will take some time to upload, depending on the size of the file, you will also need to allow some time (e.g. 15 minutes) before launching your survey to make sure that the video conversion process has finished.
To embed a YouTube video, you need a video uploaded to YouTube and then need to find the YouTube share link, to do this:
Once you have your share link, copy and paste the link into the YouTube code box, select where you want the video to be displayed (before/after the question or after the answers) and then upload.