While studies are running, it is possible to monitor participation, view responses and view uploaded photos & videos.
Once your diary study is running you will want to monitor the number of users completing the tasks as well as reading and prompting on tasks/journal entries.
Click into your diary study from the main study page, to see the tasks click the 'Tasks' tab and 'Journal entries' tab to see the journal tasks:

Monitoring tasks
Your task tab will list all the tasks that are set up as part of the study:

From this page you can see when the tasks are running and the sample they are set to as well as:
View the task ()
View all completed task entries ()
Edit the task ()
Link to the participant page ()
See how many users have/haven't completed each task
Move the tasks up/down the list ()
From the actions drop-down you can also duplicate the task, send invite/reminders about the task, download the images users have added to their completed task entries, download a CSV with all responses to the task, close the task and delete the task: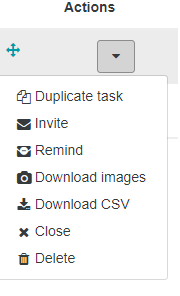 Monitoring journals
The journal entries tab will show all journal entries added by users as part of the diary study:

From this page you can filter the entries you see based on those with photos/videos, dates entries have been added plus consumer group and user field filters.
For each journal entry you can see:
When the journal entry was submitted
How many comments the journal entry has
Quick snippet of the journal entry
Whether the journal entry has photos/videos included
View the journal entry () - can then add comments/prompt on journal entries
Delete the journal entry ()
Photos and videos
If you want to see all the photos or videos uploaded by users as part of their task/journals, click on their relevant tabs:
You will see all the photos/videos uploaded and have the option to download them from this page.