Topics are ideal for categorising threads and creating a structure for Forum discussions
The following video walks through the process of setting up new forum topics. Alternatively, a written explanation and screenshots can be found below.
Before you can post any forum threads, you first need to set up a forum topic. Click 'Add Topic' from the main forum back room page, give the topic a title, description (this will show to users) and set the admin rights for the topic: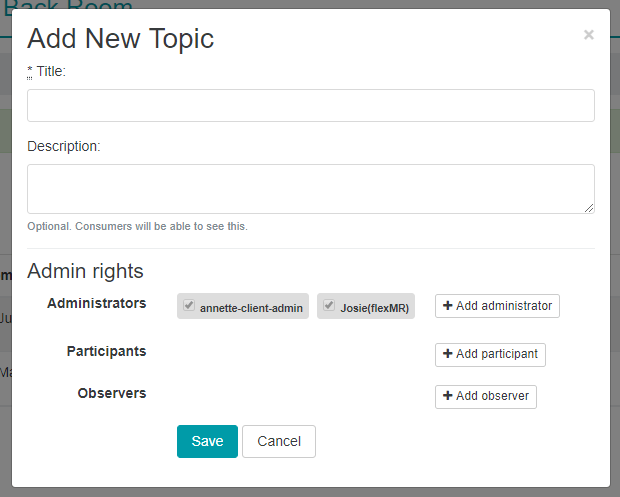 Forum Setup
Give the forum topic an icon (this will display on the forums that users see and on any forum specific widgets on the homepage), this should be a maximum of 80px X 80px and needs to be either a png, gif or jpg file type.
By default the threads within the topic will be ordered on most recently commented on at the top, and users will be able to start their own discussions. You can change this using through the posting controls for the topic: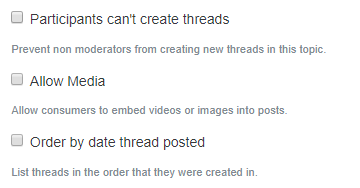 You can also set a completion target for the topic, which controls how many posts the user needs to add to the topic for it to show as 100% completion on the participants page. If you are using the forum for a community discussion are you don't need to set a completion target.
Sample
When setting the forum up, on the 'Sample' tab, you can either select from a list of existing consumer groups, or create a new consumer group: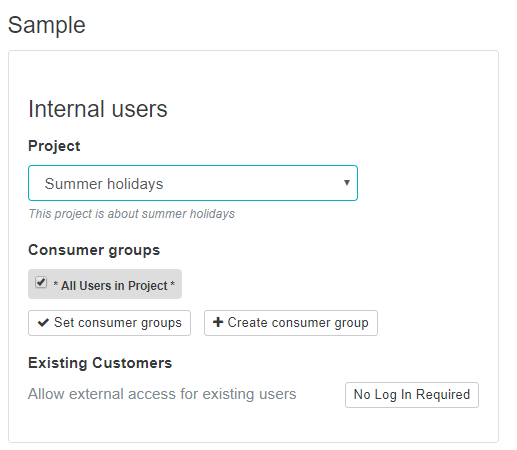 If you opt to create a new consumer group on this page, you will get a pop-up which contains a mini select sample page. You can then follow the exact same process to create your new group as you would on the main select sample page.
Scheduling
Then you need to specify when you want your forum to run:

Next steps
Once your forum is live you can then go to the topic, set up your threads and then send out the invites.