Once a DiaryMR study has been set up, qualitative and quantitative tasks can be added to provide structure.
From the 'Tasks' tab, click 'Add Task':

Give the task a title (it's often good to include the question number if you need them to be completed in a specific order, or on a specific day), and add the introduction to the task to the main text box and then press save: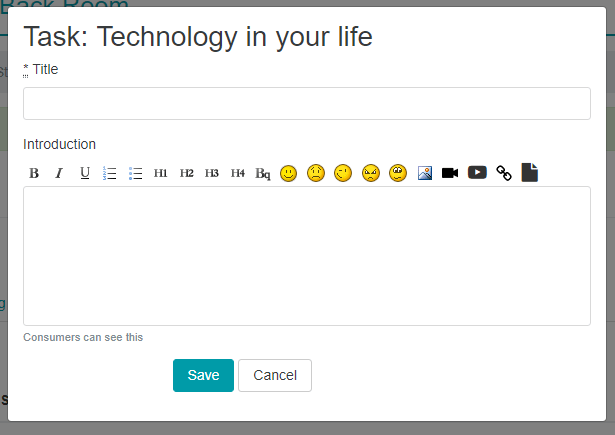 You then need to complete the rest of the settings for the task including:
Whether you want users to be able to comment on their completed tasks (yes), whether you want moderators to be able to comment on completed tasks (moderator comments) or whether you want the comments turned off totally (no)
Photos and/or videos upload for the task
Consumer editable - whether you want users to be able to edit the task once they have completed it
Occurrence - how many times you want people to be able to complete the task (one-off, each day, each week, each month, continually)
Completion target - how many times they need to complete the task for it to record as being completed on the participant page (only really necessary when the task can be completed more than once)
Dates the task will run within the study
You also need to set the sample for the task. You can either select the same group as the study, or a sub-group of users within the study. If you opt to create a new consumer group on this page, you will get a pop-up which contains a mini select sample page. You can then follow the exact same process to create your new group as you would on the main
select sample
page.

You then also need to add the individual questions to the task. You can have questions which are:
Free text response
Single choice response
Multiple choice response
Scale response
The requirements for the answer option format for single/multiple choice and scale questions are shown. All questions can either be a compulsory question or optional using the 'Required' tick box.